In an unprecedented move (both in terms of the exact warning and notification of the timing) Google have pre-empted a change to their Google Search Algorithm. The update is designed to enhance its service for the increasing volume of mobile users. As a result, mobile-friendly websites will rank higher in Google's mobile search results.
"When it comes to search on mobile devices, users should get the most relevant and timely results, no matter if the information lives on mobile-friendly web pages or apps," the company noted. "As more people use mobile devices to access the Internet, our algorithms have to adapt to these usage patterns."
What you need to know about this change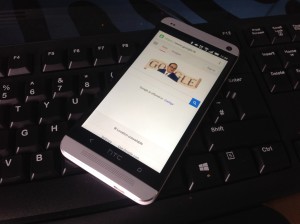 Effective April 21, Google will be expanding its use of mobile-friendliness as a ranking signal. At the moment this change will only affect mobile searches (for now), however it will have a significant impact on search results. Mobile users will now receive search results that are relevant and optimized for their devices. So websites that are relevant and optimized for mobile will rise to the top of the searches.
This might seem slightly irrelevant given that if will only (initially) effect mobile searches, but you need to bear this in mind:
According to Search Engine Watch, in 2014, mobile Internet usage exceeded desktop usage for the first time. It also found that 77 percent of executives use their smartphone to research a product or service for their business. This supports separate research that suggests 80% of customers have looked you up on line before they eventually do business with you.
To find out how you will fair with these changes you can run a test using Google's Mobile Friendly Test
Is this an Opportunity or a Threat?
If you have a mobile friendly website then it is without doubt an opportunity. It will give you an edge when compared to your competitors that don't have mobile friendly sites.
If you don't have a mobile friendly site then depending on how you react between now and the 21st April will determine whether this is an opportunity or a threat. If you do nothing then it is without doubt a threat as there will be competitors that have a mobile responsive site. However if you make moves to create a mobile responsive site then it can become an opportunity.
If you choose to do nothing just keep in mind that mobile search traffic will only continue to increase, so the threat will only increase.
If you have a WordPress site we have a solution that can be implemented quickly and effectively to give you a mobile responsive site. This can be a permanent solution or a short term solution while you makeover your site so that mobile responsiveness is at your sites core.
If you don't have a WordPress site and would like a mobile responsive solution we can discuss your options.
Summary
Google has been hinting at this inevitable emphasis on mobile for some time, having emphatically endorsed responsive design over the last few years, adding "mobile-friendly" labels to the mobile search results and creating the mobile-friendly testing tool. And while the change on April 21 will only impact mobile searches, it's clear that mobile-friendliness (and optimal user experience regardless of device) will continue to carry more weight in future search algorithm updates for Google, as well as other search engines.
The key point to take from this announcement is that a mobile friendly website is no longer an added bonus but an absolute must if you want to stay ahead of your competition.